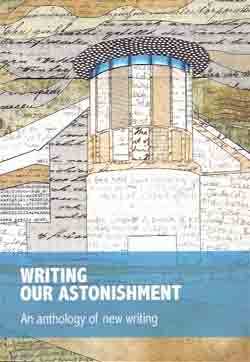 Writing Our Astonishment is an anthology of new writing with contributions from former and current members of our group.
It is the happy result of a workshop class led by Canadian writer Heather Birrell from January to June 2016 at An Lanntair. The anthology contains essays, poems, short stories and excerpts from novels.
Copies are available in the An Lanntair foyer for £5.
Contents
Questions by Cathy MacLeod (short story)
St Kilda Fever by Fiona MacDonald (novel excerpt)
How Now Brown Cow by Kathleen Ferdinando (children's rhyme)
Under Night Skies by Lynette Wemyss (short story)
All Over a Crate of Milk by Peter Harrington (parable)
Wee Donald by Katie Laing (essay)
Five poems by Hilary Sludden (poems)
Huzzah for the Third Horse and Thunder! by John Hayward (short story)
Lottery Win by Tristan ap Rheinallt (short story)
The Dealer's Daughter by David Brown (novel excerpt)
Beserk by Heather Birrell (short story)
Finding the Force by Janine MacDonald (short story)
The Model by Pauline Matterson (short story)
Maturity by Morag MacDonald (short story)